I just want to say a BIG THANK YOU for making the trip to Japan such an unforgettable experience.
It was only possible thanks to your expert help, advice, guidance and patience. The Canon Foundation Board members join me in thanking you. I managed to make all the train and bus connections and your choice of both onsens was perfect. There was no way I would have been able to find them if I'd have looked myself.
You are a true professional and I feel very fortunate to have found and met you. I have already recommended you to people who are thinking of going to Japan.
I wish you a healthy and happy Christmas with your family.
With kind regards,
-Suzy
---
I first met Eri Kotoura in May of 2017. We spend two days together exploring Kyoto. This was time well spent because I returned to Kyoto in June 2018 with five other professors and thirty-three university students.  The process of scheduling the visits, tours, explanations and experiences went very well throughout the year leading up to our week-long visit to Japan. Eri was always quick to respond to emails and with a cheerful, positive tone. I gave her a long list of things we wanted to see and experience with the students and every expectation was met. The hotel arrangements, coach and driver, food and tours were all at the highest level. I develop study abroad programs for a university in the USA and work with agencies and guides all around the world on all six inhabited continents. Kyoto Travel Agency and Eri meet the highest professional standards that one can establish. As a guide, Eri works hard to understand what is needed and for what purpose. She then sets out to accomplish it perfectly. Both the faculty (average age 55) and the students (average age 20) thoroughly enjoyed Eri's explanations and organizations. Her English is clear and always understandable. I would not visit Kyoto without using Eri and Kyoto Travel Agency. Next is to bring my family members back so that they can experience learning from Ms. Kotoura. I give her my highest marks with no deficiencies at all.
-Jeffrey.H.
---
Eri is an absolute delight. Not only does she have an amazing knowledge of Kyoto, but she also has a casual charm and sense of fun which made our tours with her amongst the most enjoyable and memorable of our trip to Japan. She is well prepared, flexible and clearly loves what she does. Her English is exceptional and she also helped us with bookings and advice for other activities. We were very privileged to have Eri as our guide and we would definitely recommend her to anyone looking for the very best.
-Bill.T.
---
Outstanding Kyoto experience thanks to Eri a native of Kyoto who is both gracious and charming. She has both a great historical perspective but adds commentary about today's social climate in a d around Kyoto. She met our bullet train from Tokyo and gave us a complete view of the top sights plus ended with a most wonderful private TEA HOUSE ceremony. Both our friends and traveling companions loved the day as much as we did. Thank you Eri. 
-Steven.H.
---
Eri went out of her way to ensure we had a memorable experience. The tour was a highlight of our 2 weeks in Japan. She was also incredibly flexible and allowed us to make several last minute changes in the itinerary to adapt to our interests. Kind, friendly, very knowledgeable and perfectly organized. Can't speak highly enough of Eri or this tour. Highly recommend!.
-Marc.D.
---
Eri spent two full days in Kyoto with us, and gave us a wonderful set of tours. Before we arrived, she spent a significant amount of time and effort on emails with me and the drafting of an itinerary that met all our varied requests, including getting us lottery ticket to a special garden. She then showed us Kyoto in all its glory. We were impressed that there was no question that stumped her, and we learned an enormous amount about Kyoto and Japan. She was completely terrific and we highly recommend her.
-Lisa.M.
---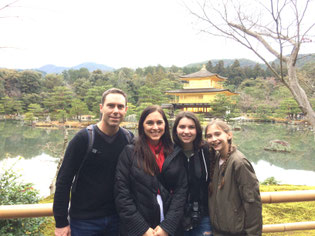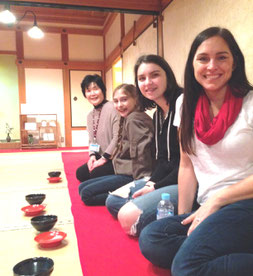 We had a beautiful day touring Kyoto with Yoshiko. She is extremely punctual and expert about Japanese history and the sites of Kyoto. She was very kind and flexible to accommodate our interests.  Also she was very helpful with transport information and tips for the rest of our trip.
Many thanks to Kyoto Travel Agency!  We highly recommend you to others. 
Jennifer & Family
---
Eri is WAY more than a five! She is simply the best tour guide my husband and I have EVER had. Aside from being incredibly knowledgeable about all things Japan AND very fluent in English, she is a lovely human being: kind, thoughtful, and a real pleasure to spend time with. When we return to Japan, we will be spending more time with Eri on Kyoto adventures!
-Susan & Richard USA
---
Eri made my trip to Kyoto truly special. I had been travelling alone through Japan which is fine for sightseeing, but spending the day with Eri taught me so much about the culture. She was endlessly patient with my questions about Japan and Kyoto; knowledgeable about local design, religion, art and traditions; kind and warm and very easy to get along with. I'll be returning to Japan soon, and will not hesitate in booking another tour with Eri!  
-Samantha.W.
---
We were 5 Slovenian tourists and Eri Kotoura was our guide all 9 days. Eri is a perfect guide. Every morning when we met in our hotel she introduced our plan for that day. She told us some history and interesting things on the way to the temple, castle, mountain, city.. We were using public transfer almost every day (metro, taxi, train). That was great. You can see how public transfers look like, you feel the beat of the city, you can see people on the way to work, how taxi drivers use gloves and how people live every day. 
Kyoto is a really nice city. You can see traditional houses and ladies in kimono. It was something special. City atmosphere, Golden pavilion, ladies in kimono.. We all like that city a lot! Eri showed us some nice and not so touristic places.  
On the way to the airport Eri did summery of our trip.She did it really good. We were laughing and enjoyed very much. She had a big surprise for us. She gave us an album with pictures and origami. 
Everything we can say about her is just: she is the best guide we ever had!!!
Thanks to the agency to gave us Eri as a guide, thank you for all organisation and presentation of Japan.
Thank you very much for all 9 very interesting days. We had also great time in Japan and spending it with you as a guide and such a lovely and kind person. You were really the best guide and we will remember you forever. We have already traveled a lot and had a lot of different guides so far but none of them was trying to satisfied our needs about what we like to see or to eat like you did. Your presentation at the beginning of the day plan was always very interesting. And also thank you for the album of pictures of us you took. It was really very nice surprise and it meant a lot to us. It also means a lot that you enjoyed with us as well. 
Marija, Slavko, Anže, Tugo and Meta 
---
We are a group of 4 seniors who took the Nara tour with Eri. She did an outstanding job on that tour and provided us with valuable information for the remainder of our stay in Japan. Eri is very knowledgeable, completely fluent in English, and interested in providing her customers with the best possible experience.
-Robert.F.
---
Perfect day with the perfect guide! Kyoto under the snow was magical and so was the knowledge and absolute generosity and kindness of Eri. I could not have dreamed of a better day and a better person to share it with. From the temples visits, to the zen buddhist lunch, to the tea ceremony, everything was so well planned. I just had to enjoy the immense and extraordinary beauty of the city. Eri's choice of itinerary was perfect for one day of discovery. Thank you Eri for the most magical time in Kyoto
-Valerie.G.
---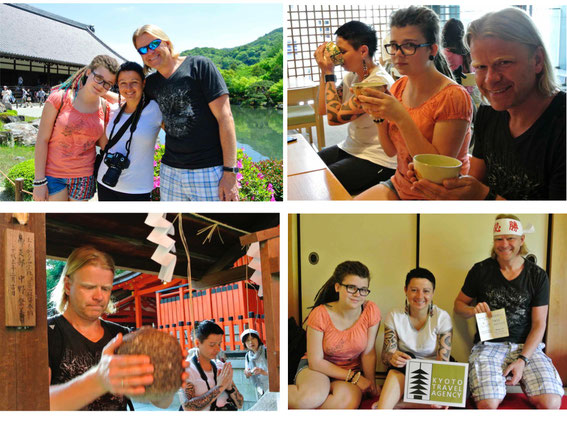 Yoshiko Kotoura in a very professional way prepared a private tour for us, which involved the most important places of Kyoto. She picked us up directly from the hotel, and then, using the public means of transport and taxis we were moving surprisingly fast through the city, despite bad traffic, which was mostly caused by the Golden Week. 
Yoshiko has a very impressive historical knowledge, which allows her to talk about all those buildings, temples and Japanese habits in an extremely intriguing way. The trip was perfectly organized, so we had a really nice time, seeing i.a. Golden Pavilion, Ryoan-ji Rock Garden, Nijo-jo Castle, Tenryu-ji Temple. 
There was also a very nice surprise. During the lunch in SHOJIN-RYORI Yoshiko gave me a birthday gift, to which she even added some wishes in Polish :)
Therefore I highly recommend Kyoto Travel Agency and Yoshiko Kotoura to everyone who wants to see Kyoto as well as learn about history, culture and habits In Japan.
Norbert Bielecki
---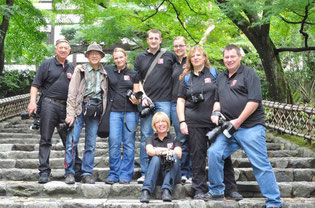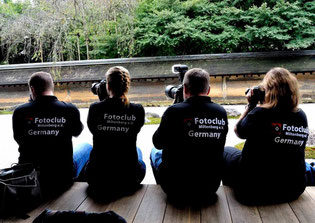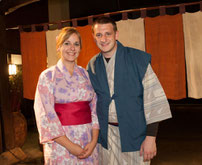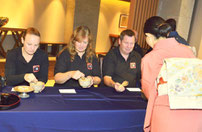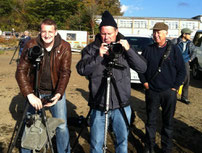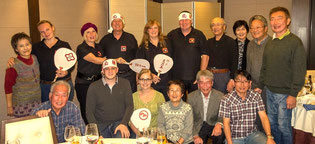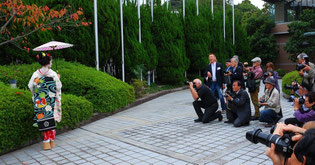 Dear Kyoto Travel Agency,
thank you very much everybody for the amazing journey you organized for our German/Japanese Group!!!
I have never experienced such a well organized, friendly and full of cultural experience and historical sights trip! We can only recommend to travel with this agency!!!
Thank you very much for everything!!!
Yours Fotoclub Miltenberg e.V. Germany
---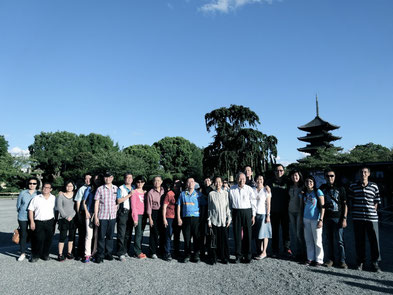 We are from Malaysia. Our Company had organized its Management Conference in Osaka, Japan this year. Besides the conference, our group with 22 members extended our visit to other cities such as Kyoto. Fortunately enough we had engaged Kyoto Travel Agency, led by Yoshiko Kutoura, a very professional Certified Travel service Manager and Licensed Guide to plan and organize our day tour to Kyoto. To avoid any delay for our trip, Yoshiko proactively planned ahead to come to Osaka and put up a night earlier in the same hotel with us before our departure to Kyoto. This has shown her professionalism and commitment in carrying out her task.
Time is priceless for her. She will always be on time or even ahead of the schedule that she had planned for us. The coach that ferried us around was also on time and waited for us most of the time. With her perfect English, patient and good knowledge in Japanese history and culture, we really can feel and understand the history behind the places of interest. Our tour was so flexible and tailored to our needs and interest. In our group we had some elderly members and some who are not convenient to walk for long distance. She and her colleague Ms Eri had planned and took special care of this group of members with a taxi to ferry them and to catch up with the rest of the group when long distance walking was required. Ms Eri had accompanied them along the way with care and explanation to ensure that they were not left out on any interesting story or information.Our trip was perfectly organized and planned with a lot of sweet memories. Therefore, whoever would like to visit and see the real Kyoto, we highly recommend Kyoto Travel Agency and Yoshiko Kotoura as your choice of tour guide or planner.
Bernard Tan from Malaysia
---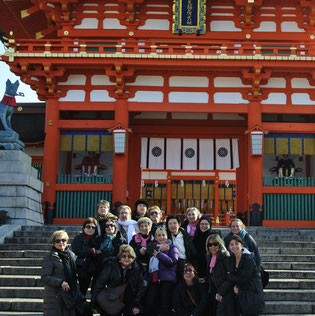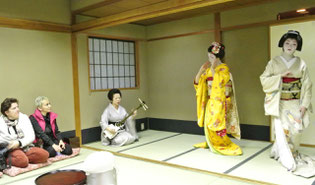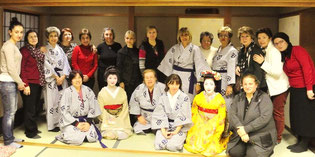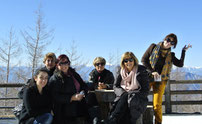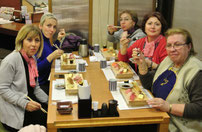 We had a group of 18 merry tourists from Turkey,touring around Tokyo, Hakone, Kyoto, Nara, Osaka and Kobe for a week.We really had a wonderful time with them, thanks to the fine weather. We would like to cherish every encounter and experience with them even after they are back in Istanbul!  
---The messages from the tourists of Ejder Turizm from Turkey---
Dear Yoshiko, I appreciate everything you did for us. You made us very happy with your hospitality. I wish you the best of everything.                  
Loves from Istanbul, Refika Dağlı
Dear Yoshiko, I am really pleased to have visited Japan. I 've observed interesting places and different cultural experiences. Thank you so much for your amazing guidance in this amazing trip. Let me know if you come to İstanbul, we will be waiting to hear from you again.    
Yours sincerely, Nazan
---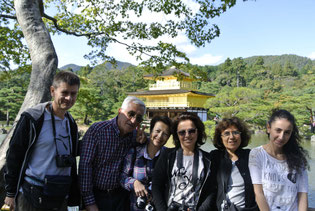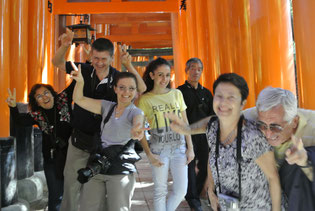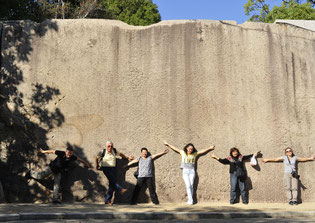 We had a pleasant and wonderful time with a group of Ejder Turizm   from Turkey, touring around Kyoto, Osaka and Kobe.
-- Message from a Tour Leader ---
Dear Yoshiko,
Many thanks for your kind help and the best service I have ever had.I think we have a home in Japan from now on.We are very glad meeting you.It was a 12-day-trip, but I just remember Kyoto, Osaka, Kobe part clearly with your best service.When you come to Turkey, please let me know.
I hope to see you again soon.
Regards,
Birsen 
---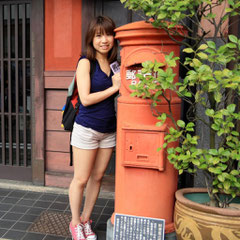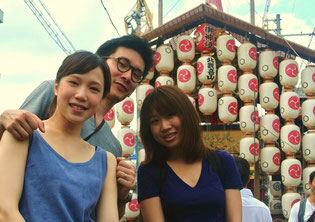 I have been to Kyoto 4 times already, yet it was a pleasure to have joined this half day tour with Kotoura san. She is by far one of the most knowledgeable, kind and sincere guide I have ever met.
The main theme of the tour was to visit Kyoto's Gion Matsuri, one of the three biggest festivals in Japan. We had a splendid lunch of Kaiseki cuisine in a restaurant renovated from a wealthy merchant's mansion, afterwards we toured the center of Kyoto to view the "floats" that was getting ready for the festival.
Kyoto was so crowded that week, with tourist amounting up to 300thousand each day! Kotoura san had a map in her hand and explained to us the tapestries on the floats, the history and also the lives of the local folks. As a foreigner and with no knowledge in Japanese, Kotoura san was able to explain everything to me clearly in her perfect English.Her explanations brought the most boring tapestary to life!!As a part of the tour, she also tailored special visits according to my interests, such as visiting the traditional styles of yukata of Kyoto, and also to the Gion Corner to see the maiko dance. I have enjoyed the tour so much that I am planning to visit Kyoto again.
The reason I chose Kyoto Travel Agency is because, as a visitor who is already familiar with Japan, I wish to know about the real lives of people, stories and histories of the place. There is so much in Kyoto that I will never know unless I was guided by a local, and Kyoto Travel Agency has exactly satisfied my needs in this aspect. Therefore I highly recommend those who are looking forward for "real adventures" in Japan to have a taste of their tours.